"Success," Money, Women and Fame leaves Rock and Roll Club owner wanting more…the party lifestyle in a rebellious scene left the owner empty and searching.
Here is part of his story;
I was a typical suburban kid, listened to Led Zepplin and the Beatles, played sports, built go-karts and rode my bike all over the neighborhood. My parents split up when I was 9 and it was a dark cloud of pain. I mostly ran with the wrong crowd in school. My family said they would send me to any college I wanted to go to but I didn't really have a direction in my life. My dad always said "don't be an architect" like he was. My mom's side of my family wanted me to be an engineer but nothing really seemed to fit. I finally went to college close to home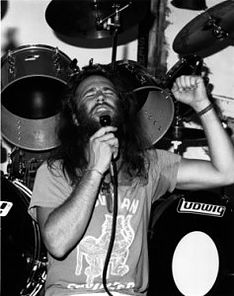 but I didn't really fit in the social groups in college so I was in and out of college making money going to Mexico and partying too much. I had my own design and construction business. After a few years in and out of college, I could not see myself fitting into the materialistic world. You know, the big drive around mall with a Polo shirt and the BMW sitting in traffic on my way to a job in a tall glass building where I would make money and go home to my trophy wife. I always thought there must be more so I moved into Deep Ellum in a warehouse, spent time painting and began to create my own world. I opened an art gallery and then we had bands play, we even did avante garde theater performances. My warehouse art project blew up and became a scene. People from Dallas began coming in droves to this warehouse in an old historic ghost town neighborhood . We had all the best bands that were touring the country, rock star parties with super models, all the coolest people on sex and drugs. 
In the midst of all the "success," the money, the girls, the fame.. I felt lonely. Partying with people like the Red Hot Chili Peppers and other bands eventually got old. My janitor started talking to me about God, He said "Russell your life is going to change", I said "I hope so". One night a guy was walking down the street near my club carrying a cross telling everybody about Jesus. I told him "all the religions are the same, they all say love your neighbor, live the Golden Rule. Everybody thinks as long as they are not as bad as Hitler or Charles Manson and just be a good person they get to go to heaven someday". He told me "Jesus is the way, the truth and the life and no one comes to the Father except by him". I really didn't know what to say, I was an opinionated, arrogant, lonely pothead and I was finally lost for words. Then my janitor invited me to his church, I said "no way, church, that's a bunch of suits sitting around talking about money, that's not my scene". He told me his church is different so I agreed to go.  When we got to an apartment in Oak Cliff I knew he was right, because there were about 12 or 13 black people singing to God and shaking tambourines. I was trying to fit in, the skinny white guy with long hair..Finally, the preaching turned to me. They said I was serving the devil, people were leaving my club drunk and on drugs, having car wrecks and getting divorced. I heard Jesus died for me to give me a new life so I surrendered and got on my knees..
 God had humbled me and brought me to my knees, I asked God to forgive me and give me a new life, they all laid hands on me and prayed for me to see. I asked my janitor and his wife questions for hours and they answered every question I had out of their big fat worn out Bible. Later, my janitor drove me back to the club, my eyes had been opened. The world that had looked like my playground where I could take anything I wanted now looked like a dark place with evil enticing me from every billboard and sign. The scales have been lifted from my eyes and I felt like a new baby, vulnerable in the world. When I got back to my club, my bartender was there red-eyed with a smirk on his face, I told him "I met Jesus we don't need alcohol or drugs". He laughed it off and said "yeah right, I'm a Catholic". I started pouring out all the alcohol and giving people fruit juice, covering over some rebellious murals.  Then I went to talk to the band playing that night which happened to be The Side Effects with the lead singer named Ted Pearce. I asked him, "why do you play music? what are you really singing about? Is it going to help anybody? He got a little frustrated and said "we play here all the time, what do you mean? I told him that everything we do, music and everything needs to help show people that God is true and he loves us. Within a year Ted had given his life to God. He now has an international music ministry playing over 200 dates a year and started a prayer march in Germany leading thousands of Jews as they display forgiveness for the Nazis. Later that day I was upstairs praying with some people including a new friend Sloan Lee and my dad who I had not seen in 6 months came walking up the stairs. My Dad was a VP of Architecture at a major retail chain and he told me they were going to let him go if he didn't go into rehab for alcohol. I told my Dad that today I was born again and poured out all the alcohol, we hugged and both wept. That was the beginning of restoration between my Dad and I. Later that night I was alone for the first time since I met God. I felt a presence in the room as if someone was breathing down my neck, it was strange but a loving presence. I was praying and asking God "what is this? I'm afraid" then I realized it was him! His love, His Spirit was there, here with me and I've never been alone since. I was trying to create my own world that I could believe in away from the materialistic mall that the modern world has become and God came to me and revealed himself in Spirit to show me his love. Now I know that this world is selfish and fleeting but God is building his kingdom of truth and love that lasts forever!
The newspapers wrote many stories… "Russell Hobbs kicks the devil out of The Prophet Bar", "The Prophet of Deep Ellum" and "The guy that started the Dallas Deep Ellum art and music scene had some success and fame but the party lifestyle in a rebellious scene left the owner empty and searching". Finally, he met God in the flesh, the risen Jesus Christ at his janitors apartment. Immediately he canceled 50 bands, poured out the liquor, started preaching the gospel to everybody and the whole scene turned upside down..
 Will you receive Christ today? 
 The Artist that created this whole universe came and lived in the body, hugged the prostitutes, healed the lepers and called the religious leaders snakes. He gave his life upon a cross and died for your sins then rose from the dead!  Right now he wants you to know him! God came in the flesh but now he is risen and he makes his presence known to those who believe. When we seek Him with all our heart his loving presence is so real it is evidence that he is there and faithful. The Holy Spirit leads us into all truth.
– God or Religion? YOU can't do both..
Most people can't see the difference in all the religions- Islam, Hinduism, Catholicism, Mormonism, Buddhism, paganism…they try to put Jesus in the mix. The problem with all religions is they try to make you be better or to be "like God"  That may help people's behavior but it does not bring reconciliation with God, forgiveness of sin or the new life. If you are still without God's Spirit, dead in your trespasses no matter how smart or good you try to be you can't keep the laws of God or become righteous. To compare yourself with others or say you are righteous by your works is Self Righteousness! God solved this problem with the gospel! 
The Gospel;
Death of Christ- Just as prophecy foretold, the Creator God came in the flesh to die a substitutionary death on a cross at the hands of men. The Lamb of God was slain, his blood was shed to take away your sin that you choose to commit and sin we inherited from Adam. 
All inhabitants of the earth will worship the beast whose names have not been written in the Lamb's book of life that was slain from the creation of the world Revelation 13.8
Burial of Christ – Messiah was then buried for three days and three nights. We are "buried" when we die to our own righteousness and "good works" trying to make God accept us or be better than the "bad people". We rest when we  trust only in God's work on the cross.
For he that is entered into his rest has ceased from his own works as God did from his. Hebrews 4.10
 Resurrection of Christ- Jesus Christ, the messiah was raised from the dead by the resurrection power of the Holy Spirit. When you become a new creation in union with God the Eternal Spirit, he fills you and then you are raised from the dead to sit in heavenly places with Christ and walk in a new life!
 If anyone is in Christ he is a new creation, the old things are passed away, behold all things become new. 2nd Corinthians 5.17.  And has raised us up together, and made us sit together in heavenly places in Christ Jesus: Ephesians 2.6
– Are YOU a Zombie? Are YOU Dead or Alive?
He who has the Son has life and he who does not have the Son of God does not have life, 1st John 5.12 (Zoe, Greek for eternal life)
All people must be born of the Spirit! Otherwise we are walking zombies without life and slowly perishing. God told our first ancestors, "Do not eat of that tree or you will die" Adam and Eve didn't die a natural death they were still walking around, they died spiritually when they disobeyed and ate of the tree of the knowledge of good and evil. In Adam all died. All people now are born as dead zombies, naturally alive but spiritually dead. All zombies need regeneration, this is when God quickens our spirit by the Holy Spirit to make us alive to him. Only then can we SEE and understand God, His word and His kingdom.
 Unless a man is born again he cannot perceive the kingdom of God, John 3:3
And you has he quickened who were dead in your trespasses ( zombies) Ephesians 2.1
For as in Adam all died, even so in Christ shall all be made alive, 1 cor 15.22
-Christ must be risen in YOU-
 Christ is born in us just like he was born in Mary, by the Word of God. The angel spoke the Word of God and she received it by faith, then Christ was born in her. Will YOU receive the Word now?
In the beginning was the Word and the Word was with God and the Word was God John 1.1, And Mary said, Behold the handmaid of the Lord, be it unto me according to your word and the angel departed from her. Luke 1.38
We must be born of the Word of God. Being born again not by corruptible seed but by non-corruptible seed the Word of God which lives forever, 1st Peter 1.23 
But as many as received him, to them he gave the power to become the sons of God, even to them that believe on his name John 1.12
That if you will confess with your mouth the Lord Jesus and shall believe in your heart that God raised him from the dead you shall be saved, For with the heart man believes unto righteousness and with the mouth confession is made unto salvation. Romans 10.9,10 
Who being the brightness of his glory and the express image of his person and upholding all things by the word of his power, when he had by himself purged our sins sat down on the right hand of majesty on high. Hebrews 1.3 
The Goal is Christ in YOU-
– Most preaching today misses the point on the real need for Jesus Christ! Yes we do need our sins taken away so we can go to heaven BUT the greater need is that we must be made alive by the Holy Spirit so we can walk with God now because he is Spirit. When I die, I don't care where I go as long as it's where God is.The problem we have is becoming alive instead of dead in our trespasses. Life, ETERNAL LIFE is returned when we receive the Messiah and we are regenerated by His Spirit. We are first born as zombies that must be born again, born from above.
God is Spirit and they who worship him must worship in Spirit and truth. John 4.24
To whom God would make known what is the riches of his glory of this mystery among the gentiles which is Christ in you the hope of glory, Colossians 1.27
When Jesus said to her "I am the resurrection and the life, whoever believes in me though he were dead yet shall he live" John 11.25, he was not just suggesting something to say at a funeral. He is our only hope, He is life!.
Jesus said "I am the way, the truth and the life and no one comes to the Father but by me". John 14:6.
This sounds exclusionary to some but he is God and his way and it is the only way to be connected to God, this is why he came.
People argue and debate because they are still blind and our human nature does not want to deal with God telling us what to do.
But the natural man receives not the things of the Spirit of God for they are foolishness to him, neither can he know them for they are spiritually discerned, 1 Corinthians 2.14
Pray now to receive him. For prayer or help in understanding email